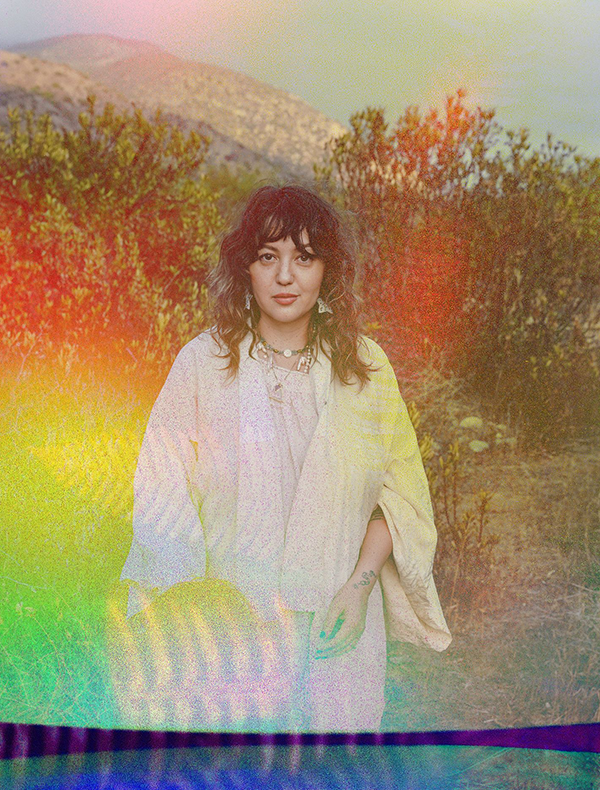 RESORT '24
MEAGAN BOYD

Meagan Boyd, b. 1987, is an American multidisciplinary artist. Through painting and existing in time and space she creates living manifestations of poetry and sensuality. Bridging the gap between the sacred and the mundane she explores visionary landscapes inhabited by both divine and feral creatures adorned with colourful symbols rendered in brush work that is both intricate and wild. Through her creative process she aims to depict visions of ecstatic joy reverberating with esoteric resonance. Her paintings present familiar archetypal figures that reconstruct ancient narratives into personal mythologies that are meant to both be relatable and evoke wonder. Her work has been featured in Taschen's encyclopedic series Library of Esoterica in the volumes: Astrology, Witchcraft, and Plant Magick and various magazines, including Vogue, Bust, Paulette, and Disfunkshion. Currently, Meagan lives and works in Altadena, California on the outskirts of Los Angeles with her beloved daughter and pets.

Personal style and adornment have always been a very important part of my identity and self-expression. Dressing up every morning has always made me feel more like myself. It's a way for me to create a story, a mood, an energy- it's an art form. In my youth, I wanted to study fashion, but found myself disillusioned by the fast fashion industry and pursued a career as an artist focused on painting. I expressed my love of fashion through piecing together thrifted treasures and developing a personal style that I felt could mirror my paintings, perhaps even reflect my soul.
"I have dedicated so much of my life to manifesting visions on canvas and hoped that one day these visions could transcend into something wearable. When I was asked to collaborate with Alemais, I was instantly intrigued at this opportunity to see my paintings take a life of their own on sustainable and ethically made clothing. It's been such an honour to embark on this artfully thoughtful journey with Lesleigh and the magical team of Alemais. Every design is infused with so much intention and esoteric meaning. This collection is mystical, joyous, luxurious, and playful. Each garment is a poem, a ritual, a wearable piece of art."
- MEAGAN BOYD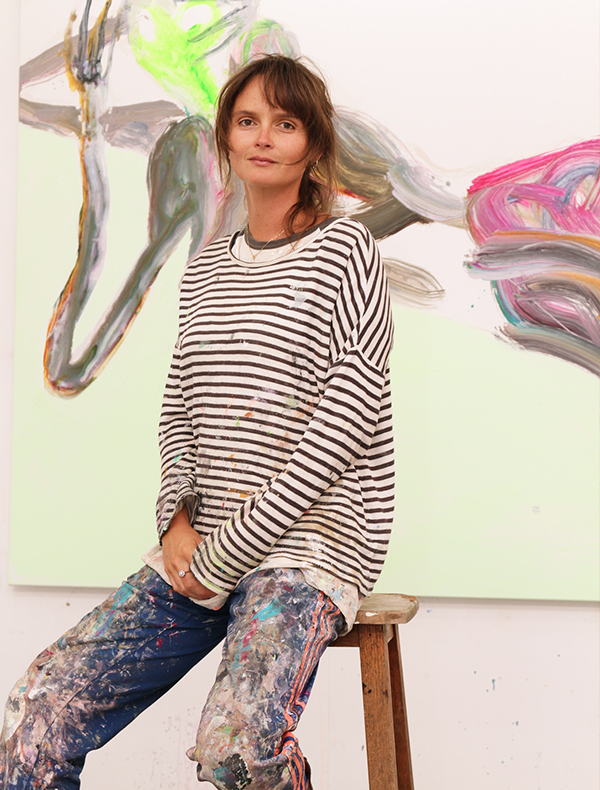 RESORT '24
JEDDA DAISY CULLEY

Jedda Culley's practice spans across painting, drawing, textiles, video, and sculpture. Each medium, in its own capacity tells a story of the inner tension and transformation of its maker – of her urge to hide but ultimate unwillingness to do so. Her practice explores the darker side of the female experience with a focus on feminist ideas of sex, expectation, motherhood, birth, and objectification. Interested in how cultural narratives have framed women as otherworldly monsters, Culley dismantles complex and misleading female (she/her) gender archetypes.

Culley holds a Master of Fine Arts and a Bachelor of Fine Arts, with First Class Honours from University of New South Wales, Australia. Solo exhibitions include: Fairy's frogs and big angry floating babies, Cool Change Contemporary, Perth, Australia (2021), Pls send pics this feels one sided, Cement Fondu, Sydney, Australia (2021). Culley is a two-time Finalist of the Fisher's Ghost prize (2022, 2021), a Finalist of the 66th Blake Prize (2021), and is collected by the Sherman Centre for Contemporary Ideas, Australia.
@jerico_contemporary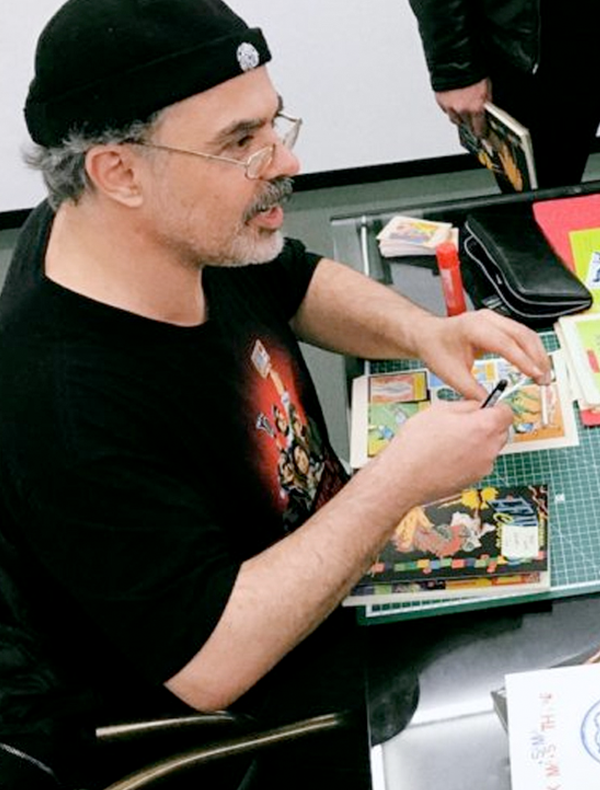 RESORT '24
YVAN GUILLO

Yvan Guillo, aka Yvang, aka Samplerman is a French cartoonist/collagist born in 1971. He started publishing his comics in numerous fanzines in the early nineties and took part in micro published collective projects. His photocopied fanzine "Crachoir" (1992-2010), featuring his own stories and graphic explorations plus works from his friends was his main space of expression before the year 2000. Then the web became his favourite place of publication and experimentation.

At the time he took advantage of the increase in availability of some good quality scans of golden age american comics. Around 2009, he started a shared Tumblr blog "zdnd", la zone de non-droit (the no-go zone) in order to show some side projects. The digital collages of forgotten and public domain american comics labelled "Samplerman" started there, and the warm feedback from many followers, and continous commissions for comics, illustrations, Sleeves for LP Record from many countries encouraged him to go on. The Tumblr blog "Samplerman" took over in 2015, followed by his Instagram account. Samplerman was awarded the Prix de l'EESI in january 2019 during the Angoulême festival. He's currently working on several forthcoming exhibitions, books and mini comics. He lives and works in Brittany, France.
"If a few years ago a fortune teller had told me that a fashion brand from Australia would be interested in using my psychedelic comic collages for their collection, I would have not believed him. But here we are and this is exciting!
- YVAN GUILLO
PRE-FALL '23
LOU BENESCH

Raised between France and the United States, Lou Benesch benefits from a rich and distinct dual cultural heritage that is reflected in her work and inspirations. After a few years spent between the two continents, she went to study at La Cambre school in Brussels at the age of 18. Her studies lead her to be both a graphic designer and an illustrator, giving her a global vision of her work.

Nature and its animals (dogs, cats, birds, horses...) that she has observed with attention and regularity since her childhood, feed her paintings, as well as tales and mythologies. Literature naturally plays a major role in the construction of her stories and her compositions. Most often in watercolor, worlds are created and populated with imaginary, surreal and symbolic creatures.

Lou Benesch's dreamlike universe has been exhibited in Brussels, Paris, London, Maastricht, or in Greece.
"As soon as Lesleigh spoke about "superheroes" and a "party on the moon" I was in! I'd always wanted to see what my illustrations could look like on garments and collaborating with Alemais was a dream. We not only spoke of the paintings but also of the shapes and designs of the different pieces and I am very grateful to have been able to contribute in such a personal way to this project."
- LOU BENESCH
SUMMER '23
VYNKA HALLAM

Vynka Hallam was raised in a creative environment; as a self-taught artist, she was encouraged to follow her creative pursuits at home and began drawing in charcoal at a young age. Originally from Perth, Vynka and her husband.

Her work celebrates a quality which exaggerates colour and perspectives, intentionally exposing brush marks and paint drips to show signs of the hand made and contribute to the visual environment of my works. She also believes there is an honesty in the imperfect.
Subjects for her art are a diverse fusion of my personal travels and experiences along with memories and encounters with the special individuals she's met. She finds moments that inspire her and endeavours to capture them and translate it into my art so her audience can experience it as well.

"The greatest joy is to see others connect and celebrate the little bit of satire and originality that I assemble in each piece. My hope is that my audience gains as much enjoyment from my completed works as I gain from the creative process."
"What a dream it was to do a Collaboration with Alemais, it's such a pleasure working with kind people, that are concerned about the future of our world."
- VYNKA HALLAM, IG @vynkas.art
RESORT '23
CLAIRE JOHNSON

Claire Johnson is a multi-disciplinary artist currently based on Birpai Country, Mid North Coast of NSW, Australia. In 2014 Claire completed a Bachelor of Fine Arts majoring in ceramics at UNSW Art and Design. Her work is a homage to movement, mythology, personal experience, and femininity.

As well as exhibiting locally, nationally, and internationally Claire has worked on numerous commercial and interior projects as well as creating acclaimed print designs for a number of fashion labels. In 2020 Claire's paper collages and ink drawings adorned the runway of Milan Fashion Week in collaboration with the Italian label La Double J. Claire's work has been publicised and featured in Vogue, Architectural Digest, Vogue Living and Vogue Runway.

Although her art practice is her main passion point Claire also works as a gallery technician at the Glasshouse Regional Gallery in Port Macquarie.
"As an artist who is passionate about print design and transferring my works on paper to wearable art it was a dream working with Alemais. For many years I have used the sun as a motif throughout my work as well as short phrases in French, so to combine the two for the Soleil campaign made me feel like this collaboration was destined. To see the collection so well received was humbling and I couldn't be prouder."
- CLAIRE JOHNSON
PRE-FALL '22
ANNIE EVERINGHAM

Annie Everingham is an Australian visual artist and creative. Her intuitive, feminine and colour driven practice combines a love of design, fashion, photography, and pattern to encapsulate the elements of beauty found in everyday life across a range of mediums.

A self-taught artist, Annie's practice developed during her studies in fashion and textile design, originally exploring ethereal textures, playful brushstrokes and floral compositions through hand painting and digital printing onto fabric.

She primarily works with acrylic on canvas and moves between abstract, semi-abstract and still life subjects within her signature palette of pastel and earth tones.
Alongside her visual art practice, Annie enjoys engaging in collaborative projects with designers and businesses across a range of creative industries, including fashion, interiors & textiles.
"Fashion, print, folklore and all things unapologetically beautiful have always been at the heart of what drives me creatively. The opportunity to step inside the imaginative and ornate world of Alémais was truly a dream come true. The brand's artistic and ethical integrity, attention to detail and reverence for their fellow creatives, makers and artists is woven into every garment they create. It was an honour to make my mark on this collection."

- ANNIE EVERINGHAM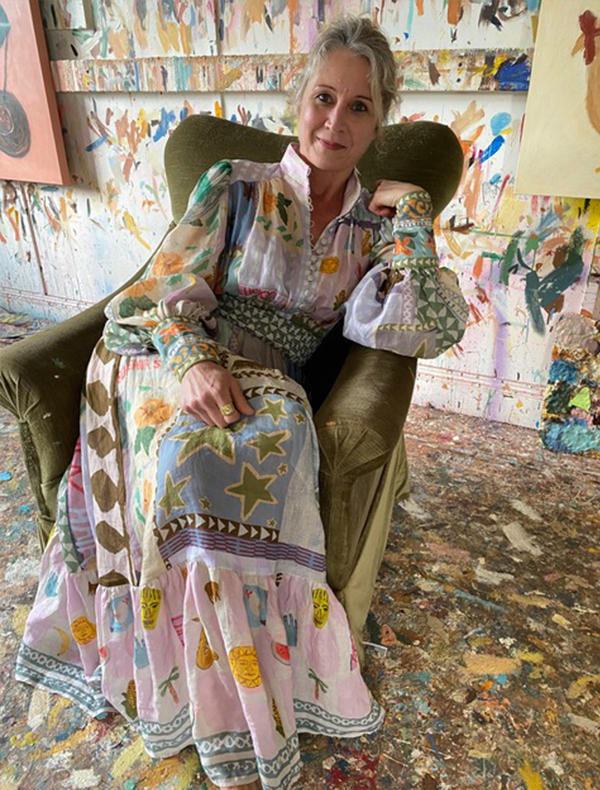 RESORT '22
EMMA GALE

Emma gale was born in Sydney Australia in 1972. Throughout her life, Emma has always been fascinated with travel and different cultures, the people themselves and their adornment, rituals and where they live. Emma translates their world through the eyes of her own on the canvas. Emma is drawn to the small things, the daily routines, street scenes maybe the forgotten and the behind the scenes 'goings on'. The interest was cultivated during her teenage years after a trip to Africa and living for two years in Egypt setting up an art program with refugees from wartorn Sudan.

In her paintings, thick sweeping strokes of layered brushwork make Emma's work immediately recognizable. Colour plays a huge part in the creation of placing the viewer in that scene, feeling the warmth of hot sun of Africa. As she explains "My work celebrates a huge love for colour and texture. My work is layers and layers of paint, mark makings of good and bad mistakes are all part of the visual landscape of my canvas." Emma lives and works in Northern NSW, Australia.
"I was so excited to work with Lesleigh and the team at Alemais. I absolutely loved what we created with my artwork and the final pieces for the collection far exceeded what I imagined".
- EMMA GALE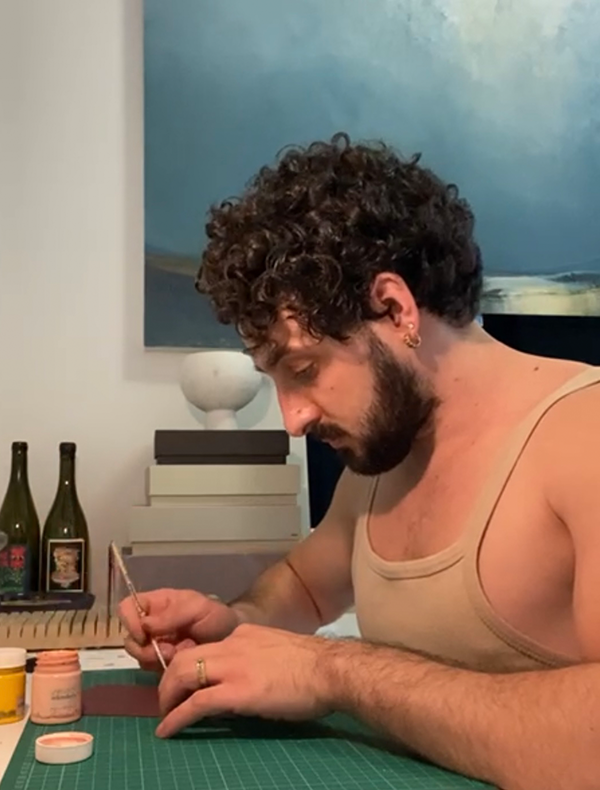 RESORT '22
SAM PAULETTO

Sam Pauletto is a calligrapher and illustrator based in Sydney on Gadigal Country. Ranging from traditional copperplate and refined calligraphic hands to modern brush work and graphic illustration, Sam blends elements of classicism with romanticism to create a fresh approach to calligraphic design. His primary mediums are ink, watercolour and gouache.

Growing up in Canberra to Italian-Australian parents, Sam was inspired by Italianate designs of his families history blended with the raw beauty found in the Bush Capital. His work is characterised by a sensitive and sophisticated use of colour, graphic shapes and a contemporary approach to traditional hand lettering.
"It was an honour working with Lesleigh to create artwork for Alemais' SS 2021 collection. Her brief for the collection was clear, whilst still giving me the freedom to play with colour and form to help bring her vision to life. Tropical fruits meets rhythm and dance through the human form and abstract elements."
- SAM PAULETTO