"Through research and development we can do better by educating ourselves on best practices to create more durable and less wasteful wardrobes. When we know more, we can design more consciously and with more consideration."
LESLEIGH JERMANUS
INTRODUCTION
We believe innovation and efficient business practices can dramatically reduce our climate impact as well as enhancing our accountability throughout the supply chain. From office operations, through to global suppliers and international stockists, we strive to reduce our carbon footprint and prioritise ethical sourcing.
KEY ACHIEVEMENTS
200,000 trees planted and counting
444.43 tonnes of carbon have been prevented through our climate positive workforce.
100% of our online orders are shipped carbon neutral.
100% of our energy used at Alemais HQ is from renewable sources.

ECOLOGI PARTNERSHIP
CLIMATE

Since our inception we have partnered with Ecologi using their Climate Positive workforce program and reforestation program. We are in process of mapping our entire business carbon emissions so that we can develop clear goals and accurate benchmarks as opposed to just lofty claims.

ECOLOGI REFORESTATION PROJECT

Alemais has funded the planting of 200,000 and counting. Healthy trees sequester CO2, making them climate champions from the moment they're planted. They also help to restore healthy ecosystems, sequestering and storing even more carbon in soils and plant biomass, as well as boosting biodiversity.

Reforestation projects provide co-benefits for local people which can promote employment, gender equality, new income streams and improved community facilities. Plug in LINK to tree projects from Ecologi https://ecologi.com/alemais

CLIMATE POSITIVE WORKFORCE

Each employee's carbon footprint is offset based on the average Australian annual footprint, plus an extra 10% (to ensure each team member is climate positive). This is done by planting 10 trees per month and financing carbon avoidance projects from around the world.

1 footprint = 22 tonnes of CO2

Total ALEMAIS impact through this program: 444.43 tCO2e has been prevented from being emitted through 38 verified carbon avoidance projects. See our projects.

OUR DYES & INKS

The clothing industry is responsible for approximately 17% of the worlds wastewater. This is predominantly from the dyeing, washing, and printing. The industry uses more than 7000 synthetic dyes and inks, these chemicals can leach into our waterways impacting the health and biodiversity of our rivers and oceans, not to mention the drinking water for downstream communities. By working with responsible facilities that recycle and reuse the majority of their wastewater and effluents, prioritising waterless printing techniques, we are reducing our impact.

100% of our printing is digital print, we opt for this technique as it uses far less water, waste and chemicals than conventional screen-printing and other print techniques.

100% of our materials are certified by OEKO- CERTIFIED standard 100, this means they have been tested for known harmful chemicals for human health.

100% of our dyes and inks are free from nasty plastic and toxic PFOA's.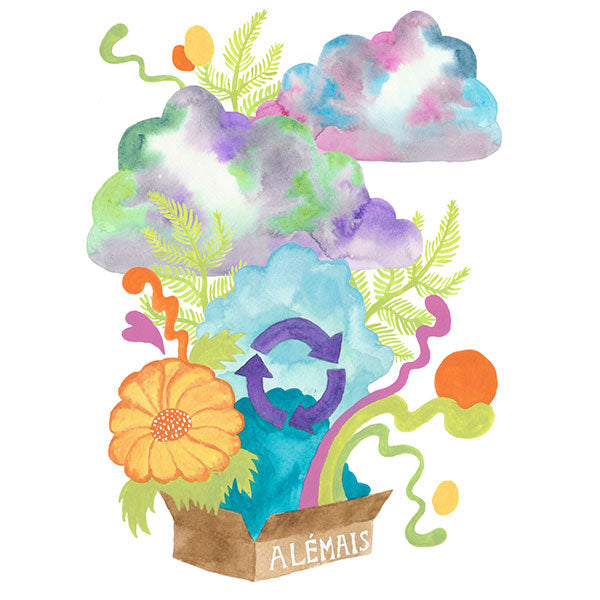 OUR PACKAGING, SWING TAGS AND LABELS

We know that every little bit counts, and we are determined to reduce our waste. Since the brands inception, 100% of our packaging and swing tags have been made from recycled, renewable or compostable resources.

> 100% of our garment bags are made using low impact materials. We use a combination of certified compostable garment bags made from plant-based plastics and recycled LDPE which can be recycled.
> 100% of our swing tags and made using FSC mixed recycled paper. This means it is made with a mixture of materials from FSC-certified forests, recycled materials, and/or FSC-controlled wood.
> 100% of our care labels are made using recycled polyester.

We understand that even the "better' plastics such as compostable or recycled, still contribute to the global plastic pollution crisis to not disposed of correctly. Thereforet by end of 2024, we are transitioning away from all plastics for our garment bags and and parcels.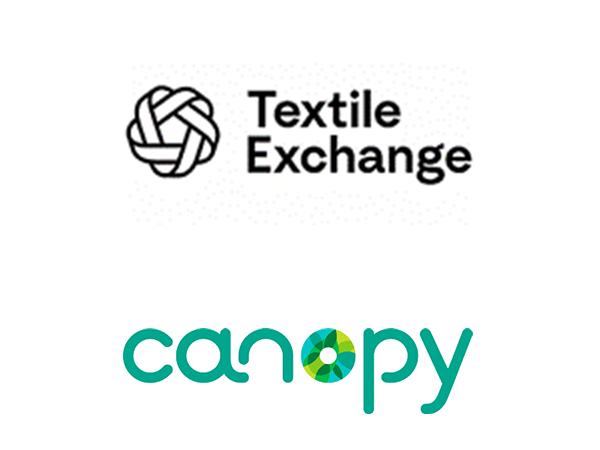 OUR MEMBERSHIPS

TEXTILE EXCHANGE

Textile Exchange is global non-profit driving positive action on climate change across the fashion, textile, and apparel industry. Textile Exchange guides and supports a growing community of brands, retailers, manufacturers, farmers, and others committed to climate action toward more purposeful production, right from the start of the supply chain.

CANOPY

Canopy's mission is to protect the world's forests, species, and climate, and to help advance Indigenous communities' rights by reducing the risk of illegal logging of old growth and endangered forests.